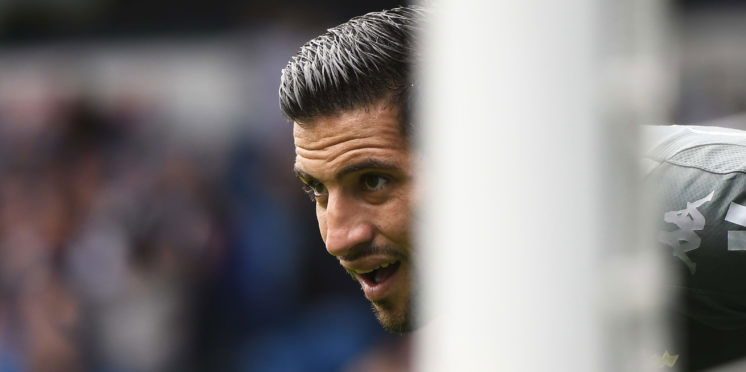 It looks like the jury is still out on Kiko Casilla for these Leeds fans
Leeds United fans on Twitter have been reacting to some incredible passing numbers put up by Kiko Casilla in recent weeks.
The Spaniard has been criticised by a number of fans since he arrived at Elland Road in January, but now he seems to be finding his feet.
At one point it was thought that he would be departing the Yorkshire club this summer, but he's remained at the club and Marcelo Bielsa's faith is now paying off.
The Argentine seemingly now has the ball-playing goalkeeper he wanted as Casilla has made more passes than any other opposition player in his past two games.
During that time he has also only conceded one goal, which was a scrappy effort from a corner against Nottingham Forest.
A number of United supporters expressed how happy they were with Casilla's performance after the stat about his passing was posted on social media.
Nice Kiko! Solid performance!!

— Neil Cockcroft (@cockcroft_neil) August 17, 2019
Thought he had an excellent game. And played well against Salford. Confidence returning…looks like the keeper you'd expect Bielsa to have

— Tom (@murgs78) August 17, 2019
One fan wasn't full of praise for Casilla despite a number of promising performances.
He stated that he still worries him, and their sentiment has been echoed by other supporters as fans remained critical of the Spaniard after their opening day clash with Bristol City.
You can read the very latest on this transfer news story and others on our dedicated Leeds United transfer rumours feed.>Leeds United transfer rumours
feed.https://twitter.com/KellyDay09/status/1162903014233055232
Other sections of the fanbase weren't won over by this statistic. One said that it wasn't that impressive, while others attempted to pick holes in other areas of his game.
Pretty unremarkable stat TBH. If our play involves recycling back thro the keeper then he's going to complete loads of 5 yd passes to CBs unchallenged by the opposition.

— Tired Old Git (@tiredold) August 18, 2019
And how many crosses did he flap at?

— Mike Watts (@chubbywatts) August 18, 2019
He's also parried more shots than any opposition outfield player too…and smacked his central defenders in the head more than them. I really can't make my mind up on him.

— R T (@Richardturton6) August 17, 2019
---